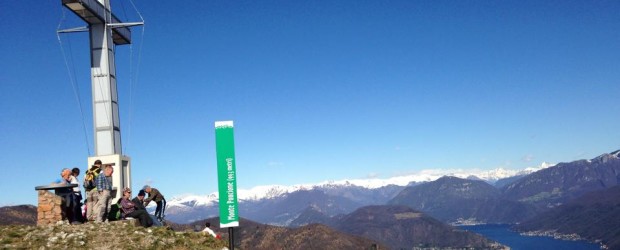 Cuasso al Monte is located in the heart of the beautiful landscape of Valceresio, a very famous valley within the Varese province.
The town, on the slopes of Mount Piambello, extends across an area of almost 16,43 km² (it is one of the widest municipalities in the province of Varese, with mountains reaching peaks between 274 and 1129 meters) and it is detached from Lake Lugano by a strip of land. The municipality is also constituted of the suburbs of Cuasso al Piano, Borgnana and Cavagnano, on an upland dominating the Cavallizza Valley, southeasterly of Cuasso al Monte. All the villages are characterized by the typical buildings made with the local rose-colored stones.
HISTORICAL MONUMENTS
The Cuasso Castle: supposedly built between 1000 and 1200 DC, as a defense fortress for SEPRIO, according to many scholars the Castle was built as a reproduction, in its complex map, of the Warkworth Castle (Northumberland, UK).
Maria Campagna Oratorio: this holy place was probably built on a pre-existing old Roman religious area and later re-built between 1675 and 1691. In the Oratorio it is still possible to admire a fresco belonging to the times of its first construction and known as "The Holy Mary with the Baby" (La Madonna col Bambino), dated around 1300.
Giacomo Old Church: this church is located in Cuasso al Piano, where it was built in 1574. Inside it, it is worth noting the old wooden tabernacle, but also the fresco over the main altar dated around 1576 (The Holy Mary with the Baby) and the ancient reliquary of Beato Manfredi Settala.
Sant'Antonio Abate Parish Church: located in Cuasso al Piano, it was destroyed by the fire and then rebuilt in 1700.
San Salvatore Church: in San Salvatore, this church was built in the typical Baroque style.
Blessed Immaculate Virgin: located within the Oratorio Madonna dell'Oro, the church is in the halfway between Borgnana and Cuasso al Monte. Inside it is possible to admire an image of the Holy Mary called "la Madonna dei Pumitt".
Parish Church S. Ambrogio: built in Renaissance style because of S. Carlo Borromeo's visit in 1579, inside the church it is possible to admire a wooden sculpture group representing the perfect reproduction of Caravaggio's Madonna, Morgari' s frescos and a beautiful nineteenth-century organ. Another thing to be noted is the bell tower with its balcony. This old bell tower, which is characterized by a stocky shape, was built with the stones of the very ancient Sant'Ambrogio al Castello Church according to S. Carlo Borromeo's orders.
San Giuseppe and Sant'Anna Church: this church in Cavagnano is a Baroque building that was renovated at the end of the nineteenth century.
San Michele Chapel: this chapel, that Goffredo da Bussero mentioned in his manuscript in the XIII Century, is surrounded by the wood and it is possible to be visited coming from the curvy street that brings to the Hospital.
Cuasso al Monte's "Desert": a beautiful location for Discalced Carmelites, it was built in 1635 by the Milanese architect Giovanni Battista Guidabombarda. Called "The Desert" for its solitary position among the trees and the wood, in the XIX Century it was owned by the Dandolo family and it hosted prestigious personalities such as Giacomo Leopardi, Tommaso Grossi, Giuseppe Mazzini and Giuseppe Garibaldi. Today the building is a modern hospital specialized in cardiopulmonary and post infarction rehabilitation.
Molino Del Torchio: supposedly built at the beginning of the nineteenth century by the Andreolettis, who owned mills since 1574, this mill worked until 1979. Today is a very famous restaurant which still maintains all its ancient appeal.
HISTORICAL SITES
Cuasso al Monte Trenches: Cadorna Defences Lines dug in 1915, these trenches look at Lugano Lake and they were built to tackle a possible Austro Hungarian attack from Switzerland.
Cavallizza Mines: located in Cavagnano, these mines were used to extract silver, crystal and lead.
IMPORTANT NATURAL, ENVIRONMENTAL AND ARCHEOLOGICAL SITES
The Five Peaks Park (Parco delle Cinque Vette)

:

This park consists of the land between Mount Piambello and Mount Poncione. It includes many of the paths that every year are used for the Granfondo "Tre Valli Varesine Off Road" Race.
Trails:
Five Peaks Park Tour
Mount Piambello – Sasso Paradiso
Cuasso al Monte- Sasso Paradiso (mountain pasture trail)
Peace Paths (Sentieri della Pace) along the trenches (Borgnana-Porto Ceresio, Monte Piambello-Bocchetta dei Frati) trails 3V and EI
Poncione di Ganna – Minisfreddo San Bernardo
Cavagnano-Val Cavallizza- Cavallizza Waterfall- Rovella-Poncione di Ganna
Operative and no longer in use red porphyry mines
Cavagnano Pond (Torbiera di Cavagnano):

This is a very important naturalistic area, characterized by the presence of peat habitats strictly linked together and belonging to the same evolutionary line. Among these habitats, Rhynchosporion's hollows are worth noting whether for their preservation extent or for their remarkable extension, very uncommon in this province. Another interesting element in this area is its local flora, characterized by a great amount of microtherm species. The area is currently in an excellent preservation state. Furthermore, many animal species are present as well, including reptiles, amphibians, birds and mammalians.
CUASSO AL MONTE'S RED GOLD
Red porphyry mines: This mining activity started in 1880 and it is now famous worldwide, being the red porphyry a unique material in Europe for its color, hardness and resistance to atmospheric agents. It is mainly used for natural pavements, the so-called "Sampietrini rossi". The Mine is today managed by the Bonomi family, thanks to whom the red porphyry has nowadays been sold in Italy and exported to Austria, Germany, The Netherlands and Switzerland as well, where it is deployed to pave, upholster and embellish architectural works.
FOR A PICNIC IN THE NATURE
A fully equipped picnic area is located in the suburb of Zotte, behind the sport center, along the way that links Cuasso al Monte to Borgnana.
During the summer weekends, all the local associations organize events with music and dances.
ALL YEAR'S EVENTS
Tre Valli Varesine Off Road Race
Evenings in MTB
"Trofeo G.P.U.S. Cuassese" , Running Race organized by Associazione Piede d'Oro – every year in April
Five-a-side football tournament   at Campetto di Cuasso al Piano- May/June
Spazzatura Kilometrica – 3 eco-friendly Sundays a year, organized by Associazione On
Religious celebrations involving all the suburbs with marches and markets: Madonna di Campagna in Cuasso al Piano on 15 August; Madonna di Caravaggio in Cuasso al Monte on 29 May; S. Anna in Cavagnano on 27 July.
Christmas Concert organized by Cavagnano's orchestra.
PRO – LOCO
Theatre – from September to May in Cuasso al Monte
BALCONI FIORITI CONTEST (BLOOMIN BALCONIES)
RESTAURANTS
Molino del Torchio – with two Forks on Michelin Guide, a nineteenth century water mill outside and a fancy restaurant inside, in this place you wil taste all the specialties of Lombard cuisine. Address: Via del Molino del Torchio 17, 21050 Cuasso al Piano – +39 0332 920318
Agriturismo Cascina Paradiso – In this farm it is possible to taste dishes made with its own products, cooked according to very old and traditional recipes, or amazing "tagliate" (ham, salame, pancetta, and so on). Inside, you will find a playground for kids, an archery camp, a big private parking lot and a room equipped for disabled customers. Address: Via Zotte San Salvatore Cuasso al Monte Varese, 2 – +39 0332 939384
Ristorante da Orlando – In Villaggio Siba, this restaurant is located on a natural terrace from which you can see the beautiful landscape of Porto Ceresio and Lugano Lake. In the menu you will find fish, fresh homemade durum wheat pasta and the best cuts of meat. Address: Via Zotte San Salvatore 7/E – +39 0332 917490
Al Vecchio Faggio – Among the highest rated restaurants in Michelin Guide, this restaurant, in the shadow of a centuries old beech dominating the garden, has a nurturing and relaxing view of the wood and the nature surrounding Lake Lugano. Here you will taste local cuisine and specialties such as Angus Pavè with caramelized-potatoes pie and other delicious dishes lovely served on the terrace. Excellence Certificate, winner 2013 Tripadvisor – Address: Via Garibaldi, 8 – 21050 Cuasso al Monte – +39 0332 938040
Trattoria Vecchia Locanda – In this Locanda you will find homemade food, pizza in the evening and a great hospitality. Address: Via Ville, 2, 21050 Cuasso al Monte – +39 0332 939080
Hotel Ristorante Alpino – Surrounded by the nature of a private park, Hotel Ristorante Alpino is located in a quiet and sunny area. The kitchen offers traditional cuisine, local dishes but also international, with a menu à la carte. This is the perfect location for ceremonies, weddings and parties. Address: via per Cuasso al Piano 1 – 21050 – Cuasso al Monte (VA)– +39 0332939083
Trattoria dell'Alpe – this restaurant is located in Alpe del Tedesco, in a green valley between Valceresio and Valganna valleys, 750 meters on the sea level. After delicious typical dishes of "selvaggina", which is mainly from local hunters, with polenta and amazing wines, you can take a relaxing walk in the wood. Address: Via Per Ganna, 17 – Cap: 21050 Cuasso al Monte – +39 0332 937190
HOTELS AND B&Bs
Hotel Ristorante Alpino *** – The building is surrounded by an amazing landscape at 600 meters avobe the sea level and it is easily reachable from Switzerland and Varese as well. Hotel Ristorante Alpino offers its customers the possibility to spend a relaxing and interesting holiday in the little and lovely Cavagnano. Address: Via per Cuasso al Piano 1 – 21050 – Cuasso al Monte (VA)– +39 0332939083
B&B Rose tra gli Archi – This B&B is a typical eighteenth century built with the local stone and locate at 500 meters on the sea level, in the Five Peaks Park with its amazing view of the Alps. The position is perfect if you want to go to Switzerland or to visit the most important town of the region, such as Como, Varese and Milan. Address: Via Alberè, 2 – 21050 Cuasso al Monte – crivellari.lucia@virgilio.it – +39328-2519820
OTHER ECONOMIC AND SOCIAL ENTERPRISES
Cava Bonomi – Red Porphyry extraction
Woodcutters (Vanoni, Vimercati e Colombo)
Pedoja Garden
Cuasso al Monte Hospital
Community "Il sorriso"
Private Practice for dietary diseases "Villa Miralago"
Private Kindergarden in Cuasso al Piano